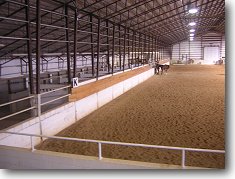 Flexibility to choose your own vets and farriers
Bright and airy barns
Large matted box stalls and bedded with wood shavings.
Fly masks and bug spray will be applied at no additional cost (in the summer, as provided by owner)
Winter blanketing available for a nominal fee.
Horses are fed twice daily. Sweet feed and oats are provided. Each horse has its own customized feeding program.
Water buckets are emptied daily.
Horses are watered twice daily. Each stall has two buckets.
Supplements given at no extra charge (provided by owner).
Stalls are cleaned 6 days days a week.
Hot/cold water - indoor wash stall with mats.

Room to ride (both indoor/outdoor arenas and trails)
3 Barns (2 are heated)
Boarders Lounge (heated in winter) with video/dvd player and fireplace
Vending machines
Wash rooms
Tack rooms
Ample parking for both cars and trailers
Variety of disciplines and horse breeds
Multiple on-site trainers
Various barn get togethers
Fellow boarders that have a common desire: the thrill of the sport as well as the love for the equine breed.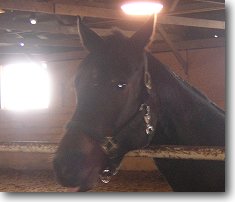 Hours are 8:00 am - 9:00 pm. Our guidelines are set in place to make our facility as safe as possible for everyone concerned. Please contact us for specifics.




If you would like to pay us a visit, just give us a call or stop by during barn hours. WWEC would enjoy showing you our facility and answering any questions you may have.